GE preps industrial-strength cloud of its own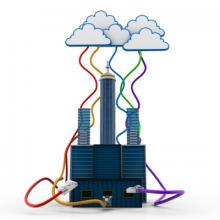 General Electric plans to launch its own cloud crafted to handle industrial data and applications. On Tuesday, GE will formally announce Predix Cloud which it is building specifically to handle the types of data generated by jet engines, MRI scanners, power generation equipment, and other heavy-duty gear.
The cloud, which is in beta test in parts of GE, will be rolled out to other corporate groups by year's end, and to outside customers in 2016.
The pitch is that GE is (or will be) first to market with cloud computing services built especially for heavy manufacturing gear used in factories, field operations, mines, or farms, not consumer and general-purpose IT applications. GE already made its Predix operating system atop other company's clouds and will continue to do so. The difference now is it will offer its own cloud and associated cloud services as well.
The Predix Cloud builds upon Pivotal Cloud Foundry platform for application development and deployment. GE took a $105 million stake in Pivotal, a joint venture by EMC   and VMware, two years ago.
GE has a good test suite for such a cloud given its own scale. If you look at GE jet engines, for example, there are 100,000 flights a day, 365 days a year, so the amount of engine data alone is a lot to handle. The beauty of getting all that streamed data in near-real-time, is that anomalies can be flagged right away, and service can be performed before there is a catastrophic failure.
Predix Cloud has several components. There is the platform-as-a-service set of software that can run atop Amazon Web Services for development and testing, but actual deployment will happen in Predix data centers and infrastructure.
"This is completely different from all the consumer and IT clouds," Harel Kodesh, vice president and general manager of GE Software's Predix group told Fortune. GE, which makes everything from jet engines to CAT scans to power generation gear, knows a lot about machinery and the data it throws off and it knows that secure connectivity to those machines and data security is paramount. "We want to make sure no one can get into that power plant," he noted.
 "GE knows the machinery, the industrial side very well but Microsoft, IBM et al understand software a lot more," said Yefim Natis, vice president and research fellow at Gartner. The real winner here will be those companies that understand both sides, he said.
To read the full article and see the video interview please visit Fortune. 
Image courtesy of hywards at FreeDigitalPhotos.net