How CloudWATCH2 is helping local government move to the cloud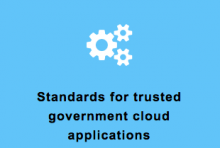 Findings from a recent Eduserv study on public sector uptake of cloud services reveal continued low uptake with less than half of the top UK councils still lacking a cloud strategy. The findings are consistent with other studies made by Eduserv, and may help explain continued over-investment in on-premise technology. The continued reliance also on in-house storage means higher costs and risks.
So what is stopping public administrations from defining and implementing a "Cloud-First" strategy?
Lack of knowledge is a major barrier
There are several reasons why local government is not ready to migrate to the cloud.
One of the top barriers is lack of knowledge about how the cloud works in practice and the different levels of control customers need to be familiar with. It is also important to know where your data resides, how it can be recovered, and so ensuring it is in an appropriate location for the level of data sensitivity.
Another major barrier is the concern about security risks and privacy of data. Even if a policy for cloud adoption exists, many councils are still unsure how to use cloud safely in practice. Meeting such concerns is particularly important for local government agencies as gatekeepers of huge amounts of citizen data and with new EU regulation like the General Data Protection Regulation (GDPR) setting out stricter rules.
Inflexible and legacy IT contracts are a problem, but there are also issues such as retaining integration across systems, controlling federated identity management, and fear over data security and cloud resilience. These legitimate challenges are best addressed in an effective cloud adoption policy and a modern IT strategy that expressly deals with the risks and migration.
So what can IT decision makers do to start tackling the challenges?
CloudWATCH2 – tools, services and expert guidance at the click of a button
A reputable and responsible cloud service provider will help customers plan for the migration to a cloud service, identifying and helping to in place risk management. But there are also many steps that prospective customers in public administration can take in defining their cloud strategy.
This where CloudWATCH2 comes in with its free access to a range of tools, services and expert insights to facilitate the implementation of a "Cloud-First" Strategy for local government bringing cost and risk reductions. However small your IT team.
CloudWATCH2 Government Hub
Start now with our newly launched Government Hub: http://www.cloudwatchhub.eu/gov
New services coming soon: Cloud for Education in partnership with Education on the Cloud