How to negotiate a proper SLA?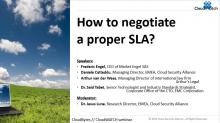 The typical Cloud customer easily grasps the Cloud perceived advantages and user-friendliness, but he is not a security expert. Therefore he has trouble matching his own requirements with the many offers at hand. Fortunately, most CSPs include security provisions in their SLAs. Yet the very variety of customers' requirements ma it all too easy to over/undershoot the security target. That's where the benefits of template SLAs kick in.
This webinar presented expert opinions on the topic of Cloud secSLA negotiation taking into consideration standards, technical, legal and social aspects.
Moderator:
Dr. Jesus Luna, Research Director, EMEA, Cloud Security Alliance
Speakers:
Frederic Engel, CEO of Market Engel SAS
Daniele Catteddu, Managing Director, EMEA, Cloud Security Alliance
Arthur van der Wees, Managing Director of international law firm Arthur's Legal
Dr. Said Tabet, Senior Technologist and Industry Standards Strategist,
Corporate Office of the CTO, EMC Corporation
Find the speakers presentation below.