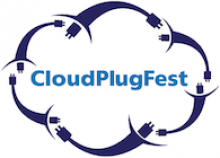 Event Date:
Tuesday, 17 November, 2015 - 09:00
Monday 16 November afternoon (02:00 - 06:00pm) to Tuesday 17/11 morning  (09:00 - 12:30pm).
A
Cloud Interoperability Plugfest project
(or "Cloud Plugfests" for short) is a co-operative community series designed to promote interoperability efforts on cloud-based software, frameworks, and standards among vendors, products, projects and implementations. 
The Cloud Plugfest 22 will be a great opportunity to experiment with prominent open cloud projects. This hands-on workshop is open to participation by standards organizations, individual developers, vendors and software framework projects. 
The Paris Cloud Plugfest will focus on OCCI, TOSCA and CDMI interoperability between ongoing projects and existing cloud solutions.
More details about the agenda, tests description is available from the OW2 Technology Council wiki at
Cloud_Plugfest_2015-11
. 
While planning to attend this event, take the opportunity to join
OW2Con'15
, our open source community annual conference, and also Paris Open Source Summit,  
POSS'15
.
To register to the Plugfest, please use the OW2con'15 registration form and make sure you tick the box "Cloud Plugfest" when selecting the sessions you plan to attend. 
Cloud Plugfest Practical information
November 16: Room IA 58/60
November 17: Room F017
Orange Labs
38 rue du Général Leclerc
92130 Issy-les-Moulineaux
Phone : +33 (0)1 46 45 33 27
Metro : Line 12, Mairie d'Issy or RER C, Issy Val de Seine.