Mapping the cloud landscape at Cloudscape 2016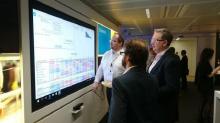 If one thing is clear, then it is the widespread adoption of Cloud Computing in all its aspects and variants. However, with a thousand flowers are blooming it becomes increasingly difficult to find the flowers matching your individual needs. The CloudWATCH project and its successor (naturally called CloudWATCH 2) developed a methodology, and a supplementing online service that allow any user to easily and quickly find Cloud projects and activities, providers, technology providers, and service consumers with a similar cloud characteristic profile for matchmaking and business opportunities.
Cloudscape 2016
, last week in Brussels, was the perfect place to showcase the application and collect more contributions from the delegates present.
The online application allows any interested user to enter their individual scores for inclusion in the analysis database after verification of authenticity and legitimacy of the submission. However regardless of that, a user can analyse and cluster all existing scoring submissions according to their needs and interest, to receive a tailored analysis with all submissions with similar scorings clustered in meaningful and significant groupings. 
Even though the current database is relatively small, it already provides a good insight into the landscape of Cloud computing projects that were or still are funded under the EC's FP7 and H2020 programmes. With our opening the application to the wide public, we aim for significant expansion of the underlying data for meaningful and accurate insights of worldwide scope.