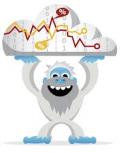 Project start:
Sunday, 30 September, 2012
Project end:
Friday, 30 September, 2016
Project Website:
http://bigfootproject.eu/
BigFoot addresses some of the most vital issues related to the deployment of large-scale data analytic technologies and innovative analytics-as-a-service business models.
Data interaction is hard. Current approaches lack an integrated interface to inspect and query (processed) data. Moreover, not much work has been done on the literature to optimize the efficiency, and not only the performance, of interactive queries that operate on batch processed data.
Parallel algorithm design is hard. While the design of parallel algorithms is already a difficult topic per se, current systems make the implementation of even simple jobs a tedious and exhausting experience.
Deployment tools are poor. Management tools are still in their infancy and target solely \bare metal" clusters.
Impact of virtualization. The effects of compute and network virtualization on the performance of data-intensive services has been largely overlooked in the literature and available solutions.
Lack of optimizations. Current systems entrust users with the task of optimizing their queries and algorithms. Moreover, dataflow and storage mechanisms are data-processing oblivious", which leave room for several optimizations that have not been addressed by current solutions.
How will your solution/service benefit the end-user?
A platform-as-a-service solution for processing and interacting with large volumes of data. Bigfoot builds upon and contributes to the apache hadoop ecosystem and the apache openstack project.
Key differentiating benefits provided by BigFoot include :
Analytics-as-a-Service:
Self-tuned deployments in private (and public) clouds
Hardware and data consolidation through virtualization
Performance enhancements to mitigate bottlenecks
Multi-site add-ons for geo-replication
Resource allocation mechanisms:
New scheduling components to deal with heterogeneous work- loads
New work-sharing optimizations for both batch and interactive engines
In-situ querying of RAW data:
Distributed query mechanism to operate on heterogeneous RAW data
On-the-fly indexing for modern storage devices
High-level languages
Scalable Machine Learning library
Time Series Library
Target groups benefiting most of BigFoot solutions (see our website for details):
In a generic context - Academic Researchers, Engineers and Data Scientists, Big Data companies
In the cyber-security context - Security software companies, CERT teams, Security researchers
In the Smart Grid context - Residential electric consumers, Managers of utility companies, Energy data scientists, Smart city services operators
Resources:
Open Source software available on