ECIM - European Cloud Marketplace for Intelligent Mobility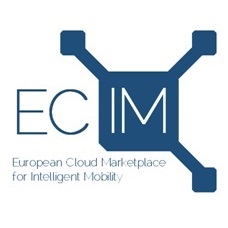 ---
What user need or pain point is your project addressing?
A majority of European mobility-related public and private sector institutions still struggle to take maximum advantage of the cloud to deliver services and data online in a cost-effective and scalable manner. At the same time, developers and SMEs who seek such services and data to create useful and innovative mobility applications, have difficulties in finding them and increasingly depend on disparate service catalogues/marketplaces to procure them.
The European Cloud Marketplace for Intelligent Mobility (ECIM) set out to help 3 key audiences – service and data providers, developers (service re-users), citizens (service users) – to benefit from the ability of cloud computing to deliver mobility apps and services more efficiently and effectively.
Service and data providers: Private or public providers who seek to offer their services or data in order to expand their geographic scope and increase their target market.
Developers: Including SMEs, who need to quickly and easily access/purchase and use innovative web services anytime, anywhere.
Citizens: Who are forced to use different applications, user accounts and payment processes to cover their every-day mobility needs (e.g. parking, transport planning, etc)
Project's major results:
ECIM developed a platform and Marketplace for Mobility services and successfully tested the service integration concept with several citizens using a mobile app in pilot cities of Brussels, Barcelona, Issy-les-Moulineaux and is currently running a proof-of-concept in Birmingham. 
ECIM also integrated a few 3rd party mobility services, and tested the concept also with developers by running appchallenges and hackatons in the pilot cities.
Target stakeholders:
Start-ups & microfirms, Small & medium enterprises, Open Source developers, Local public administrations.
Find out more
---
How will your solution/service benefit the end-user?
ECIM offers a state-of-the-art cloud platform that will become the European marketplace of choice for city mobility services that are secure, scalable and easy to use.
It will achieve this goal by creating a flexible, cloud-based solution that makes it easier for public and private service providers to publish their services and data, while enabling developers to combine them and re-use them. In summary, ECIM benefits its end users by providing:
A pan-European mobility service and data catalogue/marketplace with a common interface for developers to purchase and access them, irrespective of the type of service and geographic location.
Common Mobility API to facilitate the easy creation of new mobility applications, by alleviating the need for developers to learn and use different service specifications.
An easy-to-use interface where providers can publish their services and make them available through the Common Mobility API.
A common payment system to facilitate the interaction and financial transactions between service providers and service re-users.
The potential to combine web services and data from different providers into a single application, with seamless experience for the app end user.
Potential exploitation strategy:
ECIM gives service providers additional channels to sell their services to end users, it enables developers to easily access these services and create innovative multi-modal apps, and provides citizens with integrated mobility apps, which don't require time-consuming registration process in order to use each mobility service and pay for it. 
As any platform-centered business also ECIM requires a critical mass of users on either side of the market. In order to become sustainable, a number of service providers need to integrate to the platform and developers need to create attractive apps. ECIM could be provided as a public infrastructure, or could run as an independent entity, relying on transaction-based revenue sharing.