HyVar - Scalable Hybrid Variability for Distributed Evolving Software Systems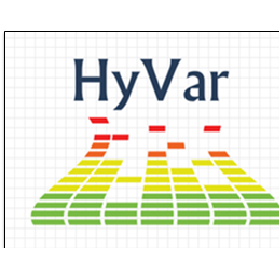 ---
What user need or pain point is your project addressing?
ICT is becoming increasingly integrated into our everyday environment. It is distributed on all kinds of devices from cars to household appliances. On top of that versions evolve continuously according to customer needs. The value chain of this process consists of:
End users who want good quality software, which responds exactly to their needs.
Device developers who produce the devices that the end-users will use such as control-units in cars, appliances and portable devices. They need to deliver new devices as fast as possible on the market and support the reconfiguration of these devices with requirements to high distribution, flexible maintenance and quality assurance.
Software developers who need to produce high quality software for the devices as fast as possible, responding to customer needs and to the device developers' objectives.
This value chain poses challenges in the domain of the Future Internet, combining advanced software management models with highly individualized, evolving expectations and requirements of the end users. In order to meet these challenges, a new approach has to be developed for faster and customisable software design for the following aspects: management of highly distributed applications; software updates exploiting device connectivity; tracing software versions spread everywhere; and maintaining and even improving the product quality in terms of reliability, resilience and customer perception.
Project's major results:
The goal of HyVar is a development framework for continuous and highly individualized evolution of distributed software applications. The aim is to support the enterprises that manufacture, operate or maintain those systems to efficiently manage frequent and sudden varying events and situations, such as frequently changing designs and software patches to a configuration, where agility is required. 
The main results of the project include:
• Methodology to address spatial and temporal variability of distributed applications.
• Domain Specific Variability Language and a tool chain implementing the methodology. 
• Scalable cloud infrastructure for monitoring and individualized customization of software upgrades for the remote devices. 
• Technologies for over-the-air updating of distribute applications in heterogeneous environments. 
We currently realized a prototype of the framework and we plan for M18 to demonstrate it on the real-world scenario of connected cars, challenging the tool onto a secure, reliable and efficient adaptation of  software towards highly distributed onboard systems.
Target stakeholders:
Small & medium enterprises, Large companies.
---
How will your solution/service benefit the end-user?
HyVar proposes to integrate and enhance state-of-the-art techniques for the management of complex software systems from software product lines with cutting edge technology for over-the-air software upgrades and scalable Cloud solutions from European industry. This will support highly individualized and reconfigurable distributed applications.
HyVar's objectives are:
To develop a Domain Specific Variability Language (DSVL) and a tool chain to support software variability of highly distributed applications in heterogeneous environments, which allows developers to encompass unanticipated evolution as a standard feature of software systems in production.
To develop a cloud infrastructure that exploits the software variability supported by the DSVL and tool chain to track the exact software configurations deployed on remote devices and to enable (i) the collection of data from the devices to monitor their behaviour and perform statistical analyses; and (ii) secure and efficient highly customized software updates.
To develop a technology for supporting over-the-air updates of distributed applications in heterogeneous environments and enabling continuous software evolution after deployment on complex remote devices that incorporate a system of systems.
To test HyVar's approach as described in the above objectives in an industry-led Demonstrator to assess in quantifiable ways the benefits of the approach.
Potential exploitation strategy:
The business potential of HyVar lays in the market need to increase maintainability and agility of distributed software.
HyVar will provide small-, medium- and large-sized companies with both a methodology for adaptation of their software lines and a software tool chain that implements it into their IDEs (Integrated Development Environment). The specific developments made with regards to HyVar architecture, tool chain and algorithms has a lot of potential in the area of highly distributed software development for the connected cars, smart objects, internet-of-things and cloud-based applications.
The pure IT solution can be exploited as software package (i.e. HyVar platform and S/W components ) or as a service (i.e. customization, maintenance, installation, training).  
The methodology is also offering clear advantages as it allow to reduce the effort spent in developing and maintaining software lines while addressing highly variable scenarios (sudden increase in number of users, data or interfaces, new standards to address, security patches distribution, rework of entire software modules to optimize performances, memory occupation, battery duration, etc. ) and can be exploited as consultancy services and specialized training offered to customers interested in deploying similar solutions and infrastructures.
Vertical Market:
Engineering & manufacturing