MUSA - Multi-cloud Secure Applications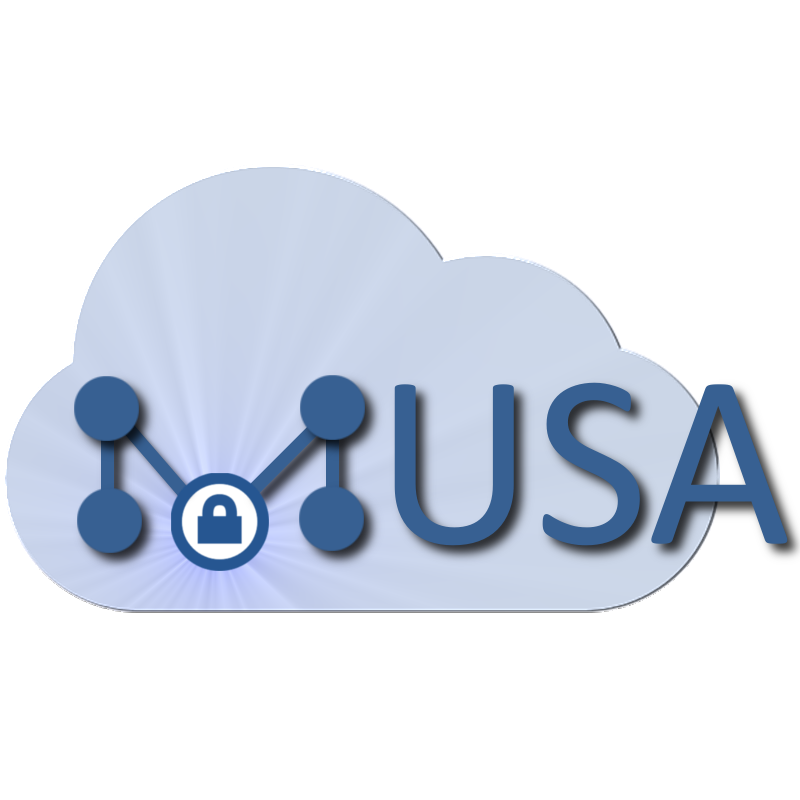 ---
What user need or pain point is your project addressing?
The main goal of MUSA is to support the security-intelligent lifecycle management of distributed applicationsover heterogeneous cloud resources, through a security framework that includes: a) security-by-design mechanisms to allow application self-protection at runtime, and b) methods and tools for the integrated security assurance in both the engineering and operation of multi-cloud applications.
The main targeted users are three:
Application developers need tools to easily design the multi-cloud applications not only according to functional features but taking into account also security features such as data confidentiality, data integrity, data access and data location. They also need security mechanisms implemented in the applications to enforce the security at runtime.
System operators need to exploit cloud service combinations as much as possible and need tools to automatically select the best combinations with respect to the application functional and security needs and deploy the components accordingly.
The service administrators need to monitor the proper operation of the application (fulfilment of SLA), including the security features, in order to react to security incidents as soon as possible and to keep the users properly informed.
The three of them need tools that better integrate one another towards seamless assurance of security in the applications.
Project's major results:
MUSA will offer a number of open-source tools for the security support in multi-cloud applications development and operation:
•
MUSA Modeller: model the multi-cloud applications, including not only functional and QoS but also security requirements.
•
MUSA SLA Generator: creation of the composite multi-cloud Service Level Agreement including security requirements.
•
MUSA Deployer: deploying multi-cloud application components in heterogeneous clouds.
•
MUSA Decision Support Tool: support to discovery and selection of the best cloud service combinations that get most out of cloud by balancing performance and security requirements.
•
MUSA Security Assurance Platform (SaaS): monitoring and enforcing the security behaviour of multi-cloud application components and multiple cloud services used.
Target stakeholders:
Start-ups & microfirms, Small & medium enterprises, Open Source developers, Large companies, Technology providers.
---
How will your solution/service benefit the end-user?
The data security incidents in multi-cloud applications have been reduced through the assurance of a secure behaviour of individual cloud-based components and the overall application, even if the data are processed and/or stored by untrustworthy or opaque cloud providers.
The cloud consumers' trust on clouds has enhanced by providing them with tools for expressing their security needs and keeping them informed on the security and performance faults of the multiple cloud services in use.
Application developers have a tool that allow them model the multi-cloud application based on the functional and security features to be offered in the SLA, as well as embed in the application components mechanisms to enforce the security at runtime.
System operators can automatically discover and select the best cloud service combinations that get most out of cloud by balancing per formance and security.
Service administrators can assure the secure behaviour of multi-cloud applications and minimize the security risks while keeping the users informed.
This way MUSA has enabled security-intelligent lifecycle of multi-cloud applications.
Potential exploitation strategy:
Application developers, system operators and service administrators are the main target users of MUSA tools. MUSA advocates for DevOps teams where all these roles collaborate to seamlessly approach security in multi-cloud applications. The applicability of MUSA tools is transversal to any domain as multi-cloud architectures bring benefits for a multitude of service applications. However, it is expected that those domains with highest security requirements are a primary target market.
The MUSA tools are intended to be exploited through a dual open source and commercial business model. For some tools a professional consultancy services schema will also be possible. All MUSA tool prototypes are planned to be released in two rounds: end of 2016 and end of 2017.
Vertical Market:
Digital health, Smart cities, Finance & insurance