SSICLOPS, the EU Project that will create high-performing private infrastructure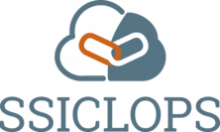 The cloud is inevitably the future home for data storage, but it doesn't mean that those who entrust a third-party storage company to safely and competently house their data have nothing to worry about.
The recent survey "Building Trust in a Cloud Sky" revealed that 93 percent of those companies surveyed in 2017 are operating some type of cloud services in their organization. The majority (57 percent) are running a hybrid public/private architecture, up dramatically from 2016 (19 percent). While these numbers are very high, the overall percentage of workload moved to the cloud remain low with most organizations having only moved a small portion of their workload to the cloud. The reasons for this mistrust may be different: most companies worried about security, privacy, speed of delivery, elastic scalability and cost.
In order to tackle these problems, we are very pleased to welcome to the CloudWatch Service Offer Catalogue the new project SSICLOPS - The Scalable and Secure Infrastructures for Cloud Operations, which focuses on techniques for the management of federated private cloud infrastructures, in particular cloud networking techniques within software-defined data centres and across wide-area networks.
SSICLOPS will empower enterprises to create and operate a high-performance private cloud infrastructure that allows flexible scaling through federation with other private clouds without compromising on their service level or security requirements. SSICLOPS federation will support the efficient integration of clouds, no matter if they are geographically clustered or spread out, and whether they belong to the same or different administrative entities or jurisdictions: in all cases, SSICLOPS will deliver maximum performance for inter-cloud communication, enforce legal and security constraints, and minimize the overall resource consumption.
The SSICLOPS solution will be based upon state-of-the-art open source products used broadly in private cloud deployments today in order to provide enterprises with full control over their own deployment.
What are SSICLOPS concrete objectives?
To build a framework for on-demand and pro-active scale-in/out in private clouds;

To provide models characterizing the static and dynamic properties of workloads and topologies of federated clouds;

To develop a hardened dataplane tailored to inter-cloud transport and transport towards clients;

To offer tools for measuring the performance of cloud systems;

To validate the SSICLOPS results in four different scenarios. The scenarios are chosen to reflect a broad spectrum of industry and scientific use cases:
1) Using an in-memory database;
2) Performing high-performance computing tasks for high-energy physics workloads;
3) Instantiating efficient and secure cloud bursting;
4) Network Function Virtualization.
To contribute the technical designs to the appropriate standardization bodies and industry forums;
To demonstrate the commercial value.
SSICLOPS Consortium: the partners
The SSICLOPS consortium consists of five industrial and five academic partners, including NEC, F-Secure, Orange, Deutsche Telekom, Hasso Plattner Institute, RWTH Aachen and the University of Cambridge.
Check the SSICLOPS Service Offer available on the CloudWATCH Service Offer Catalogue
Visit SSICLOPS website
Follow SSICLOPS on Twitter