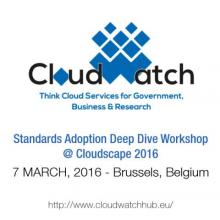 Event Date:
Monday, 7 March, 2016 - 14:00
This Standards adoption deep dive workshop continues the successful workshop series established by Cloudwatch, particularly the workshop held in September 2015 in Brussels. It picks up from the consensus on the need to address:  
- Standards profiling methodology & the need for specific profiles
- International collaboration between IEEE P2301 & ETSI CSC
The workshop focussed primarily on the single most discussed topic: Advanced Security. 
Being a draft NIST characteristic of cloud computing, there is need to further refine the terminology and semantics of the term, and in particular discussing whether and how Consumer Privacy needs to be described and harmonised across Cloud services. 
7 March, Microsoft Centre, Rue Montoyer, 51, 1000 Brussels, Belgium
---------
13:30 Welcome - David Wallom, University of Oxford
13:35 Advanced Security, its definition and how we can approach standardisation 
14:05 Summary of previous workshop & summary of points of contention 

 - David Wallom, University of Oxford
14:25 - 1445 Coffee
14:45 Breakouts on selected points of contention (e.g.)
- Policy standardisation
- Technical Standardisation
15:45 - 1600 Reporting on Breakouts, define actions
16:00 - Taking forward a standards profile, Discuss and coordinate with which SDO(s) host and coordinate which profile
16:30 - Profile lead authors/contributors & timeline & roadmap
17:00 - Close
Meeting handles hashtags: @CloudWatchHub @CnectCloud #cloudstandards
BECOME A MEMBER OF CLOUDWATCH: Please register on cloudwatchub.eu: http://www.cloudwatchhub.eu/user/register and then complete the form below for fast-track registration