Taking client surveys to the Cloud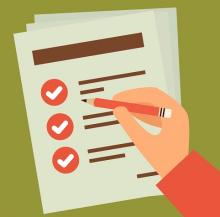 Starred is a recent start-up with a new take on an old problem: how does a business find out what its clients are thinking? The service that it has developed, delivered as software in the Cloud, promises companies better information, gathered with less annoyance to their clients.
Lars van Wieren found that clients do not mind answering short questionnaires, if the questions are pertinent and they feel the answers will be heard. So the system he put together makes companies focus their questions onto a single page, typically consisting of six fields. These brief online surveys are repeated every three months, producing a constant stream of data to follow up. Clients get a response, and are soon canvassed again to see if they are satisfied with any improvements.
An important factor in turning this idea into a business has been an increasing number of companies using cloud computing services. This means they can easily take on the software that Starred has devised, and integrate the survey tool into their corporate websites.
Starred writes software to create a tool that companies can use to canvass clients with questions and process the feedback. Typically, it provides a dashboard that shows the survey results and flags up broad areas for improvement or, perhaps specific clients who are not happy.
The greatest challenge for van Wieren in building up his business has been recruitment, with employment agencies demanding the same fees from start-ups such as Starred as they do from large, established companies. He currently has ten staff based in Amsterdam. Tax rules have made it hard to hire staff on flexible terms, for instance with lower starting salaries but attractive stock options.
While some internet businesses struggle to find a business model, Starred found one that worked relatively early. "After a year we were sending out first invoices," says van Wieren. It charges a monthly fee for the service, from €99 for small companies up to €399 for larger enterprises.
Initially he thought that small companies would be the most promising market, but large companies proved more fruitful. "Feedback is high on every company's agenda. Big companies may already have a customer excellence manager or client satisfaction manager, and there is quite some budget to make it happen."
So far most of Starred's business has been in the Netherlands, with the bank ABN AMRO among its most prestigious clients, but it also works with companies such as Microsoft and DHL across multiple territories. Later this year it is planning a venture capital round to support a launch in the UK, Germany and perhaps Denmark. 
To read the full story please visit the European Voice.