Test the CHOReVOLUTION IDRE by yourself and win a drone!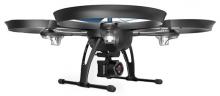 As you may know, OW2 is a partner in CHOReVOLUTION, a research project co-financed by the European Commision's H2020 Program. This article is to invite you to test the CHOReVOLUTION IDRE and give your feedback. All you have to do is download the VM, create your own "Hello World" application and fill in a short questionnaire - and you may win a WiFi-camera-equipped drone!
Check out the video clip, the use cases and download the VM from here.
 
Join the beta-test campaign
CHOReVOLUTION is a new Integrated Development and Runtime Environment (IDRE) for creating innovative distributed applications integrating things and services. It incorporates the latest in EU-funded research on service choreographies, execution middleware and cloud deployment.
CHOReVOLUTION makes possible IoT-enabled applications that create value in complex and fast changing business contexts such as Smart Mobility, Smart Cities, Smart Retail and Industry 4.0.
Download the virtual machine, fill in the feedback questionnaire before January 31, 2018, and you might win a WiFi-camera-equipped drone!
Test CHOReVOLUTION now!
The CHOReVOLUTION VM is ready to go with Debian and the full IDRE. Download it, launch it and follow the use case.Download the CHOReVOLUTION VM
Follow the step-by-step getting started guide

Fill in the feedback questionnaire
Use the Eclipse-based Studio to create your own business choreography diagram through simple drag and drop operations. Following the step by step guide enables you to generate and deploy a scalable, secured distributed eCommerce application.
Learn more by reading the Introduction to CHOReVOLUTION LinkedIn articles, business and technical white papers, the CHOReVOLUTON documentation and by following the project community. Your feedback will help the consortium to improve CHOReVOLUTION.