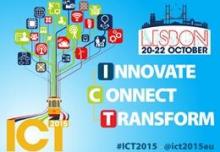 Event Date:
Wednesday, 21 October, 2015 - 14:45
ICT2015 Networking: A trusted cloud ecosystem - How to help SMEs innovate in the cloud, 21 October, 14:50-15:35, Room 11
SMEs are vital to revitalising the European economy and can benefit significantly from cloud computing. However, with limited resources they are increasingly put off the cloud by concerns over security, complex SLAs, fear of vendor lock-in and a lack of transparency. This session will bring EU R&I projects face-to-face with the very stakeholders they are serving in order to ensure that they are thinking strategically and that their solutions really meet the needs of SMEs.
Significant EC investments in software and support for SMEs can help build trust in the cloud and accelerate cloud adoption for both the supply and the demand of cloud. Online tools, training and bootcamps, projects are educating SMEs on issues such as risk management, SLAs, pricing and business models. Open Source Services also allow SMEs to manage complex cloud environments, address scalability, legacy systems and federation.
Shooting from the hip, SMEs, start-ups, business angels, investors and next-generation users will assess how useful European investments have been and give projects food for thought on how they can really address their needs.
Agenda - Panellists come from different lines of business
Chair -
Nicholas Ferguson, Trust-IT Services, CloudWATCH2
& SLA-Ready
| Slides
Boris Horvat, GoOpti - Intelligent transport service | Slides
Robert Woitsch, Business Process Modelling and CloudSocket Coordinator | Slides
Jürgen Jähnert, CloudSocket Use Case Lead on Business Broker | Slides

Rui Costa, Senior Systems Engineer at Veniam -Internet of moving Things 

| 

Slides
Paolo Balboni, ICT Legal and CloudWATCH2 partner - Legal advice on cloud adoption, especially data protection, SLAs etc., 

| 

Slides
James Mitchell, Strategic Blue and CloudWATCH2 - Cloud pricing – how to price cloud service 

| 

Slides
John Soldatos, Athens Information Technology, Clouding SMEs 

| 

Slides
Dalibor Baskovc, EuroCloud & CloudCatalyst | Slides