When Big Data shapes tomorrow's cities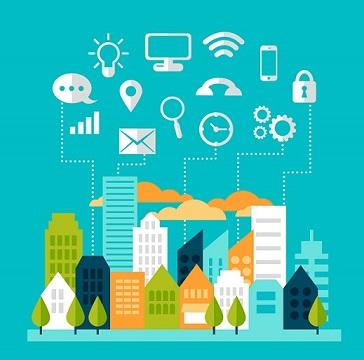 The real time numbers and information you are getting are thanks to Big Data - the huge flow of data generated every day (that according to EMC reached 1.8 trillion megabytes in 2011) (french). Data is collected in various ways: public business software (transport, telecommunications), cameras and measuring devices installed by the city, not to mention the mobile applications and connected objects we all use. It would be impossible to capture this stream of data without the cloud - the new generation storage space. The dynamics of the smart city rely on this triangle of cloud computing, the Internet of Things and Big Data. But is it just a new lifestyle?
The end justifies the means
Living in a smart city doesn't only mean dealing with advanced technology every day. It is not about living faster, or having more fun. It is first and foremost an attempt to live better. By 2025, there will be 4.3 billion urban dwellers. An expansion that directly impacts of our water consumption, our energy consumption as well as our waste production and our overall environmental footprint - not to mention depleting natural resources. Living in a smart city means living in a place which has not only been designed to meet the specific needs of the people living there but also interacts with them. In this context Big Data offers an interesting way of effectively and sustainably responding to what is fast becoming a critical situation.
Here and now
If this is the future we envisage when thinking about connected cities, we only have to look around us to see some of the first initiatives in operation. Big Data means we can now visualize a "living" city in 3D. Individual people, crowds, vehicles and other traffic flows can be modeled in real time. 
Traffic, road safety, cleanliness... all aspects of city life are gradually being more responsibly managed. ZenPark, for example, is the very first automated shared car park operator. Because the number of vacant parking spaces each year in France is estimated at 650,000 and 1 in 3 motorists driving around town are looking for somewhere to park, the French start-up has created a service that allows drivers to reduce the amount of time spent looking - and consequently their CO2 emissions.
In anticipation of the Olympic Games in Rio de Janeiro in 2016, and thanks to the data and cameras set up in the city, IBM has been able to develop tools for managing public works and roads to help Rio de Janeiro to cope with the floods and landslides it regularly suffers.
In terms of cleanliness, in Pas-de-Calais Veolia has developed a tool for communicating with local people. Via a website and a mobile application, they are continuously informed about waste collection systems. They can also find the nearest geotagged recycling center or report a problem.
In short, Big Data is opening the way to reconciling nature and cities, the environment and people's needs.
Please visit Living Circular to read the full article.