Why Is Big Data Is So Big In Health Care?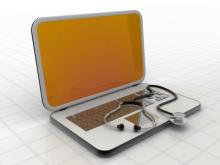 Far and away, the industry that pops up the most in discussions of big data is health care. It's not surprising, if you think about it. Lots of disparate sources of data, much of it unstructured. An industry dying to become more cost-effective – or, at least, less wasteful. And an onslaught of new devices designed to automate the process of collecting data, on order to keep professionals from having to be on hand to do so.
Recently, there's been an even bigger spate of articles about the intersection of big data and health care. The question is, what's the takeaway for other industries?
On Investopedia recently, writer Trevir Nath broke down six categories in which health care can take advantage of big data: reducing waste and costs, improving both patient care and pharma R&D, lessening government subsidies, and improving digital health monitoring.
He optimistically concludes, "Through more efficient R&D in pharmaceutical, positive patient outcomes, data transparency, and potential for preventive disease methods, analytics is anticipated to save the U.S. economy billions of dollars." The perspective for other companies: no matter what your field, there are probably areas where better insights can yield lower costs.
Earlier this month in the Wall Street Journal, Drew Harris, director of health policy at Thomas Jefferson University's School of Population Health in Philadelphia, looked at the twin poles of the topic – the ability to create highly customized medicine based on our individual genomes, while at the same time, analyzing patterns of broad demographic information.
"Electronic health records will replace traditional public-health disease and vital statistics reporting systems. Instead of tracking illness and injury weeks, months or years later, near-real-time analysis of live patient health data will enable health officials to track outbreaks as they occur," Harris wrote.
Perhaps because of its mainstream look at big data, Newsweek speculated last month on how big data could better predict emergency room rush hours. It notes, "Research that will be published in the IEEE Journal of Biomedical and Health Informatics combines Twitter posts and air quality and hospital data to form a model that researchers believe can predict emergency room trends more effectively and immediately than existing disease surveillance models."
It's also important to consider the Internet of Things in health care. The popularity of Fitbit and its ilk means that the definition of health-related devices is going to burst beyond the boundaries of hospitals into everyday life. As writer Jennifer Bresnick put it so well in an article in Health IT Analytics last month, "Healthcare organizations that wish to succeed in an era where healthcare big data analytics is a necessity instead of a luxury must be able to acknowledge that the Internet of Things knows more about their patients than their basic EHRs ever will.  Providers must put in the effort to utilize this information as a vital tool for strategic achievements instead of a burden on workflows and an annoyance to overwhelmed physicians."
The correlation to other industries? The Internet of Things is going to gives industries insight about items they never had before. Substitute "shipments" or "products" for "patients," and the potential to know where items go and how they're used (and eventually how long they're used and why they fail) have the potential to rewrite the rules about manufacturing. (For more on the Internet of Things and health, also see the Forbes piece, The IoT of Health: Big Data Can Make Us Healthier).
To read the full story, please visit Forbes.
Image courtesy of cooldesign at FreeDigitalPhotos.net